Tea CupTenmoku 2 FH
country of origin Czech Republic
Chcete pomoci s objednávkou?
+420 777 052 974
Stoneware wood-fired in anagama kiln for 40 hours at 1250 ᵒC.
ø 13 cm x height 6.5 cm, 350 ml
Tenmoku glaze got its name after a Chinese mountain Tien Mu (Heavenly Eye). It has the typical "hare coat" and "oil dots" colouring.
Ferdinand Hovančík
was born on 29th of April 1975 in Slovakia. He creates tea pottery since 1998 together with his brother Erich. They began in Klikov in South Bohemia, in mister Kovařík´s studio. They have bulit their own kiln after 3 years. They work only with local clays and glazes from local materials. He travelled and learned in pottery workshops in South Korea and Japan. Master Park Yong Il, who´s pottery we have also offered, taught him how to make a tea bowl. Ferdinand lives in Savoy Alps in South France. He comes back to Czechia every summer and makes pottery together with his brother. He creates mostly tea pottery and his brother Erich focuses on garden pottery.
We introduce a tea pottery made of local clay found in South Bohemia. Mostly in is not glazed. I tis fired in a wood kiln anagama with reversible flame and two chambers for 40 hours at 1250 ᵒC.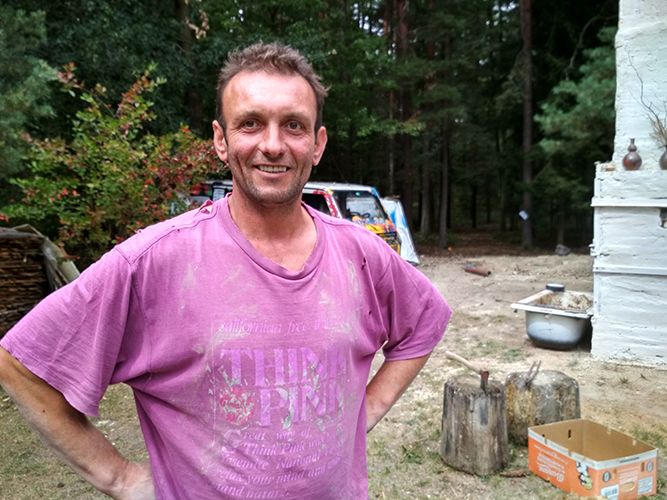 more
less
Year: 2019
Country of origin: Czech Republic

---
---