2020 Bio Kirishima Shincha Saemidori
country of origin Japan
Chcete pomoci s objednávkou?
+420 777 052 974
This year´s first picked tea from Kagoshima, South Japan. Coming from Saemidori cultivar bushes grown in organic agriculture. High-grade processed leaves of a dark green emerald colour, shaped into even needles. Wonderful sweet fruity aroma. Light green in a cup with a thick intense yet pleasant rounded creamy soft flavour, with tones of herbs or even spices, fresh fruitness and a long full aftertaste with a hint of a grapefruit. Energetic tea leaving unforgettable impression.

Preparation: 1 teaspoon (5 g) of tea for 200 ml of boiled water, cooled down to 55 - 60°C, steep for 50 seconds. For second infusion, cool the water down to 65 - 70°C, steep only for 15 seconds. You can prepare more infusions in a similar way.
Shincha - literally "new tea".
In Japan, the first tea harvest is a big event and people buy this tea for astronomical amounts of money during the first days.
First harvest
In Japan, tea is first picked and processed into the Aracha "crude" tea, which still contains all stems and leaves. Water content, though, is already reduced to 7 – 8%. Subsequently, teas from various varieties of tea plants are tasted and divided by liquor colour and taste. Shincha is then produced directly from a mixture of selected teas, the remaining Aracha is stored in cooling boxes. During final processing, teas are steamed again and the resulting moisture is about 3%.
Tea-growing regions produce various kinds of this tea depending on its processing method. Shincha is the only type that is made directly from fresh harvests. Other types of tea are made from Aracha, that is stored during the years in cooling containers.
Shincha with needle-shaped leaves is especially known from the Shizuoka region, Shincha with leaves shaped as small lines comes from the Kyushu Island.
Our Shincha is from the Kagoshima area in southern Japan (Kyushu Island). Its processing includes a typical phase of "deep steaming". This method gives it a sweet, slightly astringent taste, notably "spring" aroma and liquor of bright emerald colour.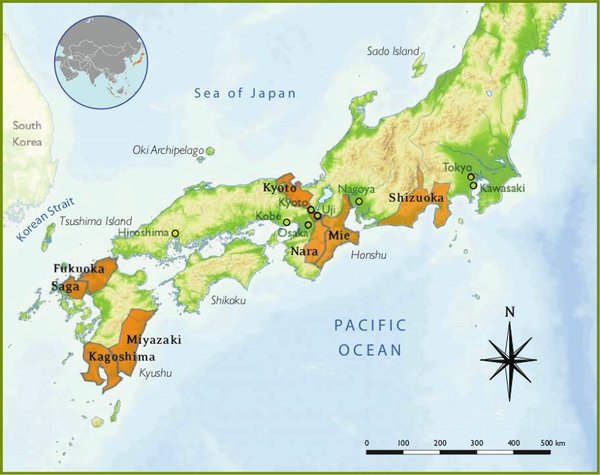 more
less
Area: Japan - Kagoshima
Harvest: 1st Flush
Year: 2020
Country of origin: Japan

---
---